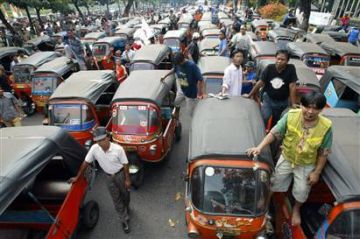 The Jakarta city is almost perpetually shrouded in smog. So, in a bid to cut pollution levels in the Indonesian capital, the Jakarta city government is replacing the old smoke-belching motorized rickshaws or bajajs – with Indonesians pronouncing them as 'budge eye' – with a new compressed natural gas (CNG) model.
Six of these CNG-fuelled bajajs are already plying the city road. It is in August, Indian auto firm Bajaj Auto has rolled out this new CNG model.
According to Reuters, the capital's head of transportation, Nurachman said,
We are optimistic that it can replace the old bajaj. The old bajaj can still operate, but gradually it will break down and the replacement will be the CNG bajaj.
Photo Courtesy: Reuters