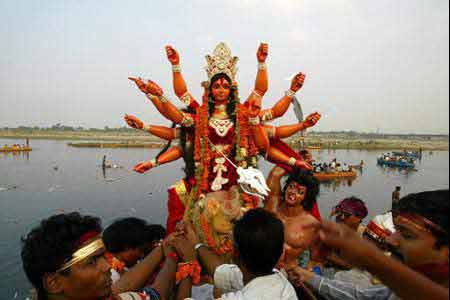 Come August, and India turns colorful with a number of festivities lined up for the year. Ganesh Utsav and Durga Puja are the two main festivals that unite communities across all sections. The streets adorn a festive look with youth associations bringing in huge idols of Ganesh and Durga to celebrate in pomp and fervour.
Though the idea of having community idols is a great way to bond among families and friends, the end of these festivals leaves a pile of stinking garbage. That's not all; the idols are painted with paints that are not eco-friendly friendly. The idols when immersed at the end of the festival in lakes with the decorations and accessories accumulate on the banks of these rivers posing an environmental hazard.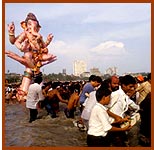 This year however, the colors of these utsavs are predominantly green. Responsible youth, aware and concerned about the environment are taking enough care to see that the celebrations don't affect the environment.
The residents of Pune bid an eco-friendly adieu to Ganesh with volunteers stationed at the Ghats to segregate the waste and recycled it for useful purposes. They collected the plastic carry bags from the devotees and biodegradable waste for the PMC to use it as compost. The flowers went in for the inmates of Yerawada Central Jail for producing natural colours.
On the other hand, the priests of Durga puja are doing their bit by ordering issued the banning the use of plastic in any form while performing the prayer rituals. Devotees are being asked not to bring in offerings in plastic carry bags. Use of candles are banned and biodegradable embellishments are encouraged.
Venkatraman Iyer, Ganpati sculptor takes it a step further by creating Ganesh idols with scraps of plastic cans and bottles. The final touches are given with social messages painted on the sculptures. His idols have been a hit with the environmentalists who see God in the dumped bottles.
The 'green dieties' must surely be smiling at the welcome changes down on earth!