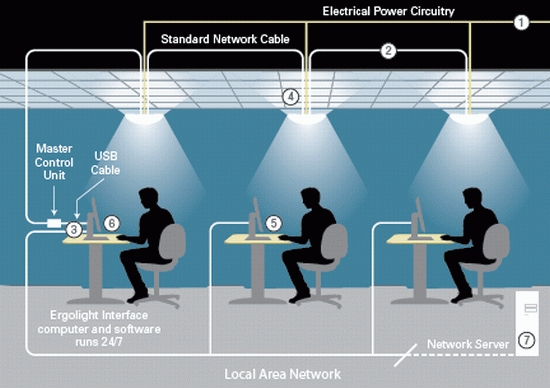 Eco Factor: Software-monitored sensors to reduce energy consumption in offices.
Saving energy in the form of electricity has always been touted as one of the best strategies to curb the energy crisis. However, with our lives getting busier we often forget to turn off the lamp when we are out for a meeting or just for a cup of coffee. Like always, inventors have found a possible solution using the latest in sensor technology. Ledalite has developed a new control system, known as Ergolight, which they believe can reduce electricity consumption by as much as 80%.
The system is based on the use of numerous sensors which monitor everything from the amount of daylight in your office to your presence on the desk. Each fixture is intended to be connected to the building's mains and to each other using a network cable. This complete network is then connection to a master control unit that can interact with all the workstations and their power supplies.
The sensors, which the system is equipped with, sense the amount of daylight entering your cabin and adjust the lighting accordingly. Moreover, an occupant sensor continuously monitors your presence and turns off the lights in your cabin when you're not around.
Via: CleanTechnica