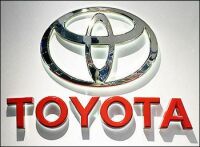 Automobile exteriors will now get environmental friendly surface treatment agent. Thanks to Toyota Motor Corp. and Nihon Parkerizing Co. for jointly developing the agent. Nihon Parkerizing Co. is a Japanese surface treatment chemical manufacturer.
Claimed to be the world's first of its kind, the new eco-friendly agent can significantly reduce the harmful metal usages, eliminating sludge that generat from the surface treatment process.
This new pre-treatment agent is completely free from phosphorus, nickel and manganese, unlike the conventional zinc phosphate ones. Using this innovative agent, the surface treatment process does not generate sludge. Moreover, the new agent leads to the same level of corrosion resistance as zinc phosphate agents. To add to its advantages, the agent ensures the paint adhesion, durability and finish with an equivalent, rather better performance.
Via: greenbiz