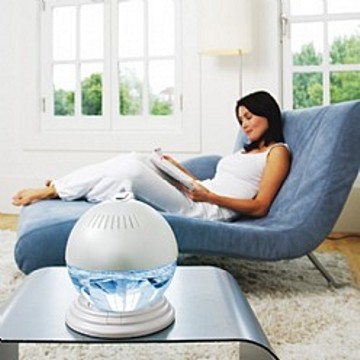 We all like the idea of having a beautiful home with nicely done interiors. But how many of us pay attention to the air that we breathe in our dream house? Getting his dose of fresh air is everyones right, but who will assure that?
Of course, the Fresh Air Globe is here to take care of all your problems.
The Fresh Air Globe is a breakthrough in clean air technology. It filters dirty air using its water-based technology, there by reducing odors and pollutants in the air by upto 80 percent.
The Fresh Air Globe is a boon for people who suffer from airborne allergens. It even has a neutralizing effect on the tobacco and cooking odors and the highly-irritating pet odors.
The beautiful design of the globe even makes it a good piece of decoration for your living room. The Fresh Air Globe is available in two choice of colors- silver and pearl. Get the Fresh Air Globe and assure fresh air for your loved ones.
It sells for £39.99 at JML.