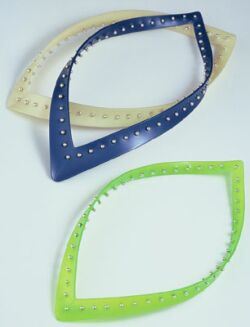 Are you crazy after jewelries made of offbeat materials? Then this is just the right bracelet for you.
Intetrestingly, this bracelet is made of plastic shampoo bottles. The bracelet has got its shape from the bottle. It is unique! It seems like being sliced out horizontally from shampoo bottles of varied colors, to add variety to the stock.
These unique bracelets, not only let you boast of possessing it, but also of being responsible towards the environment by purchasing one. The shampoo bottles once used, generally head for landfill, already burdened with enough of such disposals. The fine silver beads placed uniformly over the bracelet add to the state-of-art bracelet, and innovation.
Via: vaarwerk