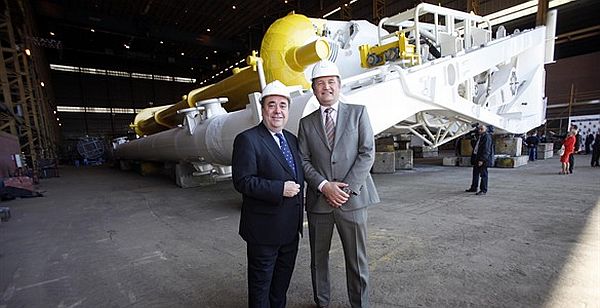 Aquamarine Power recently unveiled their latest in the Oyster series – Oyster 800, a device that converts wave energy into usable electricity. The First Minister Alex Salmond MSP from Scotland was given the honors to launch this next-gen converter. Oyster 800 is an 800KW device that has been improvised from its predecessor in terms of simplified installation, easier maintenance and better power output. The device would not be shipped from the Firth of Forth to EMEC (Europe and Marine Energy Center) located in Orkney for getting installed and would be connected to a hydro-electric plant onshore.
The Oyster 800 would be able to tap wave energy more efficiently and because of alterations in its operations and maintenance systems – the device would prove to be much more cost-efficient. Scotland is making great efforts to utilize its abundant offshore renewable wave energy and hence reduce carbon footprint by creating clean green electricity. The Oyster 800 is touted to be extremely cost effective as it would offer 250% more energy at only one third of the expenditure. It is estimated that around 20 such devices would be capable of generating electricity for 15 thousand houses. Wave energy is very effective as waves do not cease even if there are no strong gusts of wind. Hence waves occur in a rhythmic pattern – undisturbed and continuous.
The Oyster 800 would definitely be the next generation product in the field of wave technology and would be a precedent for others to follow in order to tap natural resources for cleaner and greener energy. It is assumed that tidal and wave energy could fulfill one fifth of Britain's requirements and lead to generation of £76bn to the British economy along with thousands of jobs!
Via: AquaMarinePower