Human ingenuity seems to know no bounds when it to comes to creating novel items out of discarded goods. A wall clock made out of used magazines has caught our eye for its pretty design and functionality. The colorful piece uses recycled magazines of various shades to create a clock that would instantly liven up any room. From the front, the facade resembles a bunch of flowers put together that adds to the appeal.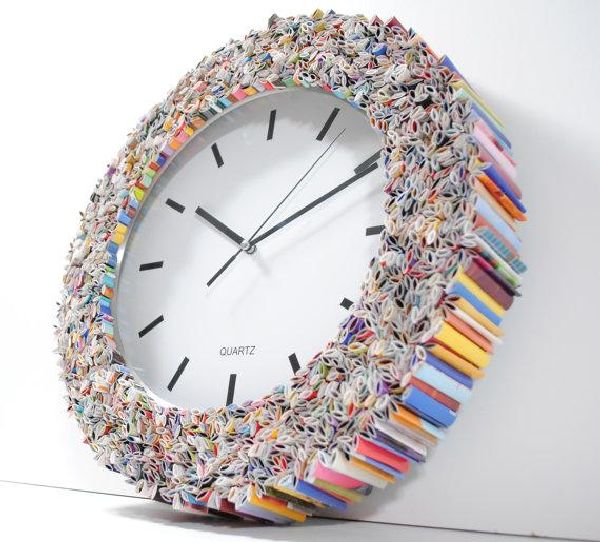 The brains behind this unique product is Colorstory Designs, a studio that engages in creating handmade items. Andrea Read and Amy Gibson are the designers who head the firm. They seek to lessen the burden posed on the environment through human impact by reusing old magazines and paper to complete their offerings. Conceived in 2008, the pair has been working up quite a collection of items comprising wall hangings, earrings, votive candle holders and pendant necklaces.
The clock has dimensions measuring 12 and a half inches in diameter with a depth of 2 inches. The hardware has been securely set up at the back. Since the designers use so many magazines to create a single unit, customers are guaranteed a unique piece with each purchase.
Recycling is increasingly being seen as a business option. With guarantees like an endless supply of raw materials and a stream of talented individuals to work with, there's no end to the number of opportunities it presents folks looking to make side income. In fact, professional designers are also making use of recycled or reclaimed materials to create totally new products. With eco friendliness seemingly turning into the 'it' thing, people are making larger efforts to purchase products that come with a green tag. And, with designers like Read and Gibson showing us just how beautiful recycled products can be, we can be sure that the trend will continue for years to come.
Via: Vespoe