Are your magazine racks overflowing with a number of old read magazines? Just empty it out and reuse those journals for creating some exceptional household items. Read on below to know more.
Wonderful Serving Bowl
'Magazine serving bowl' – does it sound strange to you? Well, it can truly be prepared for enhancing the look of your home. You can simply place it on the centre table, and add a new level to your home decoration. In addition, this serving bowl can also be used for serving dry food items. However, if you are planning to serve something curried or mashed to your guests, this magazine bowl would not be the right choice for you. While thinking of creating this exclusive craft, make sure that you have enough time in your hand. It will take lot of your time as well as patience.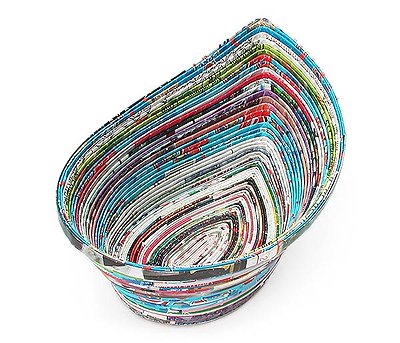 Attractive Reed Box
Are you tired of that monotonous look of your room? Want to add something eye-catching to it? This unique magazine reed box can be the perfect solution for you.  Make use of your of read magazines and come up with this amazing craft. You can make reeds just by rolling up some of your old magazines. After that, use them as covers for various keepsake boxes. It is an excellent way to create some beautiful home-made gifts. You can also use these magazine reeds for your scrapbooks, picture frames, and so on.
Floral Centrepiece
How about switching to funky magazine flowers from those real and regular ones for your dinner party centrepiece. It is one of the easiest crafts and can give your room an elegant look at the same time. Just take all your old read magazines and turn them into beautiful bouquet of flowers. Not only that, but you can also make use of some recycled straws to add stems to those flowers and increase your decorating pleasure to a great extent.
Multi-coloured Coasters
Get rid of your old boring coasters now with the help of your recycled read magazines. Yes, these read journals can be used for crafting out some eye-catching coasters. In order to add a personal touch to them, you can choose the pages that contain bright and colourful advertisements. It would make your coasters more vivid and gaudy.
Useful Wastebaskets
Bathroom wastebaskets can also be created by using a bunch of old read magazines. Well, you will need the lid of a medium-sized coffee can and a good quality adhesive for this purpose. Use the lid as the base of your trash can and magazine pages as its body. If followed the steps carefully, you can come up with a striking yet useful wastebasket.